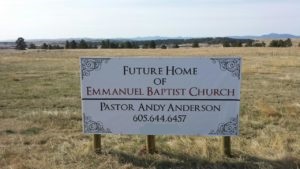 We purchased 2 acres of land. 100% paid for Praise the Lord.
Update 09/01/2023: Lord willing we will break ground in March 2024 and be ready to move into our new building by June 2024. Please pray with us as we seek God's will. Praise the Lord – things seem to be falling into place.
Our prayer: is that this site and the future building be used for the Glory of God, a rescue center for those who do not yet know Jesus Christ, a center for worshiping our God and the proclaiming of His Word and for the training and sending forth of His servants into all the world.
Mat 28:18-20 And Jesus came and spake unto them, saying, All power is given unto me in heaven and in earth. Go ye therefore, and teach all nations, baptizing them in the name of the Father, and of the Son, and of the Holy Ghost: Teaching them to observe all things whatsoever I have commanded you: and, lo, I am with you alway, even unto the end of the world. Amen. (KJV).
Acts 1:8 But ye shall receive power, after that the Holy Ghost is come upon you: and ye shall be witnesses unto me both in Jerusalem, and in all Judaea, and in Samaria, and unto the uttermost part of the earth. (KJV)
Our building goal is to stay out of debt.
We do not want our focus to go from ministry to mortgage.
Our focus is to remain on Christ, on prayer, evangelism, discipleship, fellowship, ministry, and worship.
Loving and serving the Lord and all people.
A new facility with room and parking is a tool/resource for us to carry out the 6 focal points listed above.
If God leads you to EBC, we welcome you to join us in accomplishing God's calling for EBC.
Jesus said in Luke 10:2 Therefore said he unto them, The harvest truly is great, but the labourers are few: pray ye therefore the Lord of the harvest, that he would send forth labourers into his harvest. (KJV)
Once again and always:
To God be the glory, great things He has done and will do.
We are stepping out on faith. Lord willing our plan is to start building in April 2024 and completing the building by June 2024, unless the rapture occurs first.
If you would like to help please use one of the links below.
Please use one of the links above or send your donation to:
Emmanuel Baptist Church
902 Lawrence St. (PO Box 54)
Belle Fourche, SD 57717